PickUp Parcel
With about 7,000 delivery points in Denmark and the rest of the Nordics, we are where your customers live, are and pass daily, regardless of where they live.
Fast - delivery within 1-2 days
Flexible - meet your customers' needs with various additional services
Green - we make sure that deliveries are as sustainable as possible
To pick up your parcel yourself from a delivery point, ie. pickup point or parcel box, is still the most common method of delivery of parcels to private individuals. Our network has a 100% coverage in Denmark and the Nordics and consists of approximately 7,000 delivery points. The advantage is that the recipients can pick up their parcels themselves when and where it suits them best.
We recommend that the service is ordered with an additional service for choosing a delivery point. Your customers can then choose where they want to pick up their parcels, e.g. near work instead of home. If no selection is made, the nearest delivery point to the recipient's home address is selected.
Your recipients are notified via SMS or e-mail, and the parcels are always traceable so they can follow the deliveries in our recipient interface. Delivery time is 1-2 days in Denmark and 1-4 days in the Nordics.
As standard, we deliver exclusively CO2-free, to all your customers in Copenhagen, Valby, Frederiksberg, Glostrup, Greve, Ishøj, Brøndby, Rødovre, Tårnby and Dragør, both day and evening. Roughly speaking, we reach 800,000 consumers in the Copenhagen area with bicycle couriers or electric vehicles.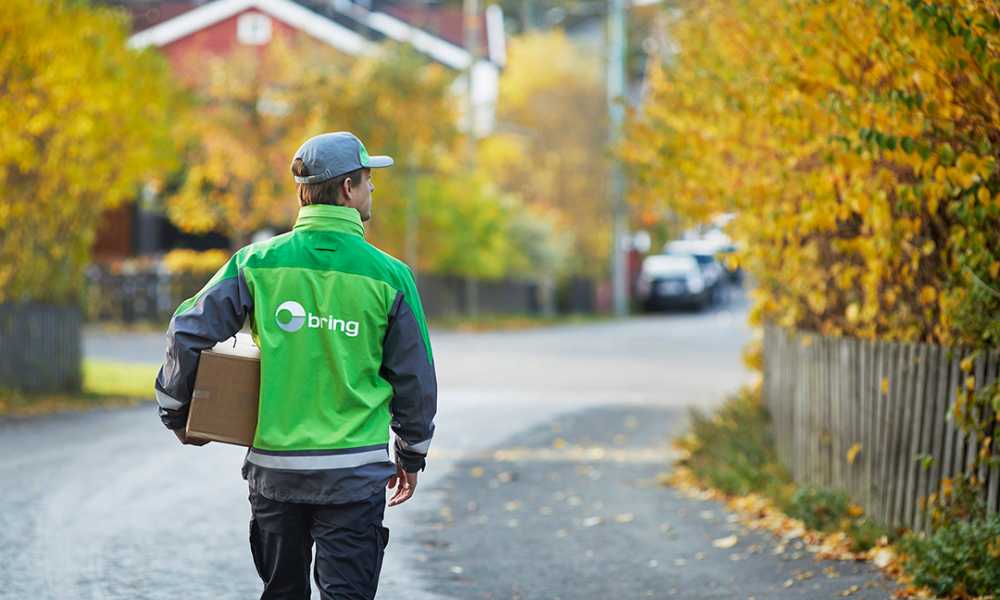 How big and heavy?
Weight and measurements
Maximum weight: 20 kg (35 kg to Norway and Finland)
Maximum length: 200 cm to Norway and Finland, 150 cm to Sweden, Denmark and most other countries.
Max length + circumference: 300 cm.
Minimum dimensions: length 230 mm, width 130 mm, height 10 mm.
For parcels with one side over 120 cm, two sides over 60 cm or one/several sides below the minimum size, a surcharge will be added.
Here's how to proceed

2

Ordering and collection

Order the delivery directly in Mybring, via API, EDI or in your TA system. You can also sign a fixed collection agreement with us. It is also possible to order pick-up assignments individually when you need it in Mybring.

3

During the transport

The delivery time is 1-2 days in Denmark and the parcel can be tracked during the delivery.

4

Delivery and reception

The recipient receives a notification about picking up the parcel via SMS or e-mail and can pick up the parcel from their local pickup point. With our additional services, you can extend the freedom of choice for your customers, e.g. with the possibility for the recipient to choose the delivery point or redirect the delivery to a home delivery until the parcel is loaded for delivery. If the parcel is not picked up, the recipient receives up to two reminders. Pick-up time is 14 days (7 days for parcel box in Finland).
Additional Services
Let your recipient choose the delivery point that suits them the best among over 1500 delivery points in Sweden and about 7000 throughout the Nordics.

Each country has different rules, so read the information below and see what applies to the labelling of parcels for the country you are sending parcels to.

The additional Cash On Delivery service can be combined with:

Business Parcel to the Faroe Islands and Greenland
Business Parcel Bulk to Finland, Norway, Iceland and the Faroe Islands
PickUp Parcel to the Faroe Islands and Greenland
PickUp Parcel Bulk to Finland, Norway, Faroe Islands, Iceland
PickUp Parcel Budget to the Faroe Islands and Greenland.

When you use Cash On Delivery as an additional service, select the COD in the system you use to print your shipping labels and EDI so that the shipping label states that the parcel will be delivered with Cash On Delivery. The transport label must contain the COD triangle, COD amount, your bank account number and possibly payment reference.

To Iceland, a payment card must be filled in, which is placed in a plastic pocket and attached to the parcel. For other countries, no payment card is required for the parcel.

If the parcel is delivered without the COD amount having been collected, Bring Parcels AB is responsible for the entire COD amount, provided that the parcel has been marked in accordance with current rules and that the EDI file has been transferred at the time of shipment with relevant information.

If necessary, you have the opportunity, for a fee, to change or delete incorrect COD amounts. The condition is that the parcel has not yet been delivered to the recipient. Fill in our form (download) and send to customer service and we will help you.

Important to keep in mind when sending your parcels with COD

Each country has different rules, so read the information below and see what applies to the labelling of parcels for the country you are sending parcels to.

How to label your COD parcels (PDF)

Bank account (COD account) with OCR

Account with OCR means that you as a payee receive an automatic settlement from your bank with information about which of your customers have paid in COD amounts. The information always contains a COD reference that shows which customer has paid the COD amount to you. The COD reference consists of a number of digits, where the last digit is a check digit. You will receive information about the calculation of the check digit from your bank.

Bank account (COD account) without OCR

An account without OCR means that you as a payee do not receive automatic settlement from your bank. You will instead receive a copy of the payment card where you see which COD amount has been paid. If you also want a COD reference, you have the option of using a free text field. An example of free text is invoice number.

Creditor number

The creditor number consists of eight digits, and is only used when sending COD parcels to the Faroe Islands and Greenland. Always inform your contact person in Bring about this number, as it will be printed on the payment card.

Being able to easily send both smaller parcels and large, heavy goods in return is as important as it is obvious when something has gone wrong. You can choose whether your recipient should carry the item to the street level when the driver arrives or if you want to order a return with delivery.

If something went wrong with a delivery, e.g. the wrong color on the armchair, you buy an exchange return. Then the driver takes the return with him at the same time as the delivery of the new one takes place.

Parcels may be lost or damaged on the way to the recipient. We therefore recommend that you take out our supplementary insurance Cargo Insurance. The compensation is based on the fair value of the shipment and does not involve any deductible. We reimburse amounts up to:

100,000 SEK or 10,000 EUR for your parcels
1,000,000 SEK or 100,000 EUR for your pallets
If you do not have Cargo Insurance, your right to compensation is tried in accordance with the provisions of NSAB 2015. Compensation is only allowed when Bring Parcels AB has caused the damage and the level of compensation is based on an amount per kilo - regardless of the value of the parcel's content. The compensation is 8.33 SDR * per kilo for road transport and 17 SDR per kilo for air freight.

The insurance can be taken out for each individual parcel or pallet. Full compensation is given for the value of the goods, and you pay no deductible. It is the policyholder himself who states the value of the goods and it must be based on the goods' costs and any trading profit. This means that if you insure your item for, for example, 1,000 SEK , it must include the invoice value, shipping, insurance premium, any profit and customs.

The maximum insurance amount for packages is 100,000 SEK or 10,000 EUR and for pallets 1,000,000 SEK or 100,000 EUR.

Cargo Insurance can be taken out for

All types of permitted goods, except mobile phones, wine, tobacco products, spirits, refrigerated, frozen and fresh goods or goods that are already damaged.
For shipments to and from all countries except Iran, Iraq and Afghanistan.
For more information about insurance terms, see firstmarine.dk, which is our partner regarding insurance.

You can choose to pay a fixed price for each individual shipment. The price varies depending on whether the shipment is to be sent to Europe or to the rest of the world. However, the premium is the same regardless of the value of the shipment. If you want to insure your parcels and pallets in this way, you can do so easily via our insurance order form, which you will find via this link.

You can also choose to insure all your parcels and pallets for one year ahead. Then each parcel and pallet is insured automatically when you send them with Bring Parcels AB. Agreements on full-year insurance are written at the same time as your customer agreement and the premium for full-year insurance are calculated on the total value of the parcels and pallets that you send with us for one year. The prize is divided and added to the price of each parcel or pallet that you send. If you want to take out a year-round insurance, you sign an insurance agreement with your seller.

This additional service gives you the possibility to notify your recipients via text and/or e-mail that the parcel is on its way, and the date and place of delivery. The message means that the recipient receives information more quickly that the parcel has been delivered to the service office and thus the recipient can pick up his/her consignment without delay. In cases where the parcel is delivered to the recipient's door, the message indicates when delivery will take place to the recipient's address. The recipients can thus more easily plan their activities in connection with the delivery.

You can order this service easily by selecting the additional service in Mybring or another EDI-supported TA system. By entering the recipient's mobile number and/or e-mail, we send a text/e-mail instead of a traditional letter notification.

For parcels and pallets to companies, the message is sent on the day when the parcel has arrived at the terminal and is to be delivered.

eAdvising is an additional service for our solutions:

•Business Parcel, DK & NO
•Business Parcel Bulk, DK & NO
•Business Pallet, DK
•Express Nordic 09:00 Bulk NO
•PickUp Parcel, FI, DK, NO & SE
•PickUp Parcel Bulk, DK, SE, NO & FI
•Home Delivery Parcel SE, NO & FI

When you use this service, you send the information in your commercial invoice in a file when the shipment is picked up from you. The EDI file is then sent to Norway so the goods can be cleared through customs as soon as they arrive in Oslo. From there, they are then quickly sent out to your recipients, regardless of where they are in Norway.

To be able to use this service, you must send the customs information via EDI. You must use one of the file formats for EDI transfer offered by Bring Parcels. The service is most cost-effective for you who send more than 50 product groups per shipment. Paper copies of the commercial invoice or other necessary customs documentation must always be attached to the physical shipment. In the event of deviations from the guidelines that have been agreed, deviation costs will be added in accordance with the agreement. For further information about the Customs Clearance Information service via EDI, contact your seller.